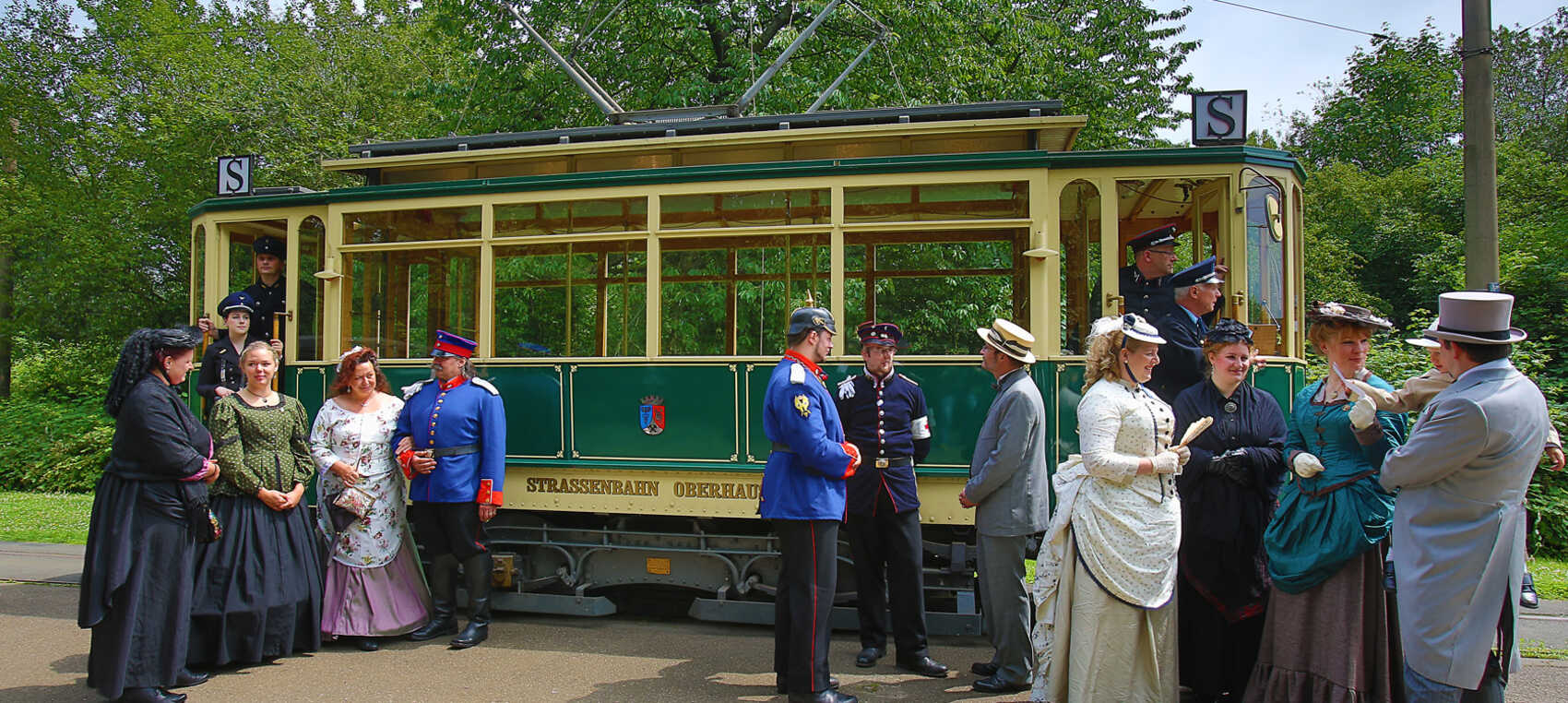 STOAG celebrates its anniversary: ​​125 years of tradition and future
It all started on April 4, 1897.
When on April 4, 1897 the first electric tram in the area of ​​today's city of Oberhausen went into operation, this was not only the birth of local public transport in Oberhausen, but also the founding date of the public utility company. The day before, on April 3, 1897, the maiden voyage took place, about which the Rhein-Ruhrzeitung reported in its April 6, 1897 issue: The opening of the city tram took place as scheduled on Saturday afternoon. Around 100 invited gentlemen gathered in front of the station to await the guests from outside. (...) The five carriages that were intended for this - the first one richly wreathed - moved (...) through Bahnstrasse, Marktstrasse and Mülheimer Strasse to the headquarters, which was emblazoned in full flag decoration and was subjected to a thorough inspection.
It is also said that the guests at the Neu-Oberhausen rolling mill were welcomed by the director of the GHH with foaming Pilsner. The banquet then took place in the station restaurant. It is also said that the guests from abroad drove to their hometown and the people of Oberhausen celebrated this day, which was so important for Oberhausen, until around midnight. So Oberhausen founded the first municipal transport company in Germany.
125 years is cause for celebration!
The anniversary year begins with a ceremony on April 4th in the rooms of the LVR industrial museum in Altenberg. Many guests from politics, business and society congratulate the STOAG.
Mix with the crowd of guests and experience the atmosphere in the boiler house and in the former electrical control center in the LVR Industrial Museum.
tram christening
It continues with a baptism at the beginning of July. That's right - we have given our six trams a name. What is common practice with planes, ships and trains, we have now made up for our green railways. The people of Oberhausen could decide whether the trams should be named after Oberhausen's six twin towns, after the six districts, through which the tram runs, or after constellations. Why constellations? Because they are used for navigation, both in the past and today.
The vote of Oberhausen was clear: 49% of the votes fell on the districts. On July 15, the 207 lane was officially christened by the three district representatives from Alt-Oberhausen, Osterfeld and Sterkrade, representing all six lanes. Here you can watch the baptism on video.
open-door day
Finally, on September 18, the big highlight of the anniversary year took place at the depot with the "Open Day". Under the motto "Experience transport history up close", all visitors big and small were able to marvel at the attractions around and in the halls of the depot.
The video for our open day on September 18, 2022!